Do you have a clear, measurable understanding of how your nonprofit can improve its digital presence?
Brooks Digital's scorecard is an introductory service designed to quickly unearth problems and focus areas that will help you improve your digital presence.
All our engagements start with this digital scorecard because we believe it's our duty to investigate and verify any problems you bring to us before recommending a course of action.
How It Works
The scorecard is a ranking system that measures the maturity level of your digital presence on a scale from 1-5 across areas such as SEO, accessibility, information architecture, staffing, and more. It includes definitions for each category and level.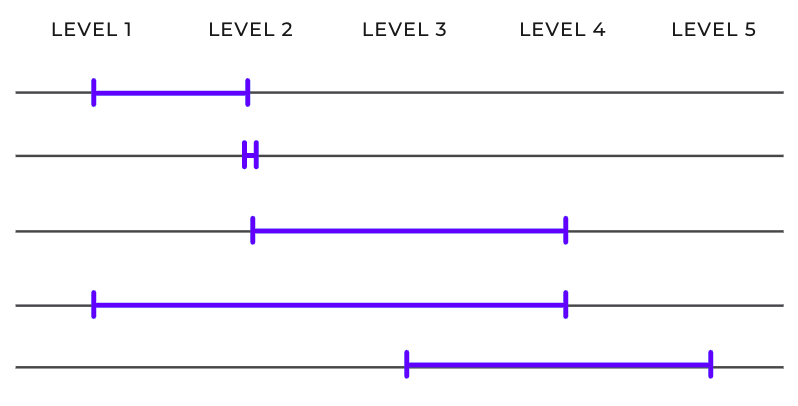 The scorecard gives you an overview of where you are now, and the recommended targets for your organization (most organizations don't need to be a level 5 in every category, for example).
Here's how it unfolds:
QUESTIONNAIRE: We start by sending out a questionnaire to key individuals in your organization to gather information.
ANALYSIS: We review the different components of your digital presence and assign a current and target score to them.
RECOMMENDATIONS: Lastly, we share the results with you and provide our recommendations on how your organization can mature in key areas.
A Note on Discovery
Some clients confuse our scorecard with a discovery, especially if they've worked with other agencies. This diagnostic is not a discovery and is more targeted and focused in scope. It enables us to pinpoint the key issues for us to explore later in our work together.
Getting Started
The cost of a diagnostic is a flat fee ranging from $4,000 – $8,000 depending on the size of your organization and the scope of your digital presence. It typically takes 2-4 weeks to complete.
To get started, send us a message below and we'll set up a call to ask you a few questions and explore if there's a good fit.
Up Next: UX Research & Content Strategy
We do the research to give you a fact-based view of your audience's needs and pain points. Using this as the backbone of our work together, we provide guidance to help you structure your site around what matters most to your visitors.
Interested in working with Brooks Digital?
Fill out the form below to get in touch with us. We look forward to hearing from you!